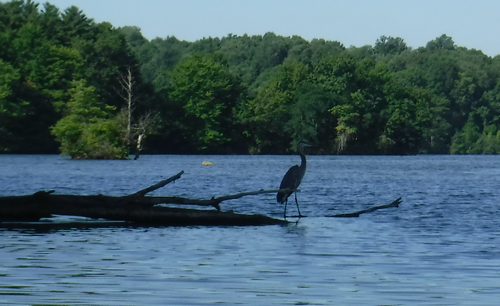 The weekend was punctuated with a few nice surprises. I got an email from an old friend. We've corresponded since he was my student almost 15 years ago. He's a good man and a good friend. I've followed his travels around the world with great interest. It's wonderful to see someone who is smart, funny, capable, and, most importantly, a good person go out into the world to see and do big things. Getting his email on a Saturday morning was a treat.
The other notable treat was being told to toss my kayak on the Jeep and go out paddling while my wife took the kids on a hike Sunday morning. It's rare that I do things on my own. Let's face it, in The After Times we're always on top of one another. Getting out on the water where it was very quiet and having no responsibilities aside from keeping myself upright was a wonderful gift.
I'm not a nature photographer (or any other kind, really) but I took a few quick pictures of a blue heron that was allowing me to get very close. It was like a segment from "Sunday Morning" with Charles Kuralt. Well, in my mind it was.